Memo From Frank
I took plenty of road trips this summer, and saw billboards in about seven different states. One of the nice things about billboards is that they can be found virtually anywhere you go, so it's hard to get bored while driving. Along the way, I saw plenty of opportunity in abandoned signs and growing markets that seemed to have little outdoor. In a world in which billboards have been one of the few survivors of the internet attack on conventional media – virtually destroying TV, radio and newspapers – the demand for outdoor advertising is at an all-time high. It looks to me like there is a huge market that is being missed by the existing companies, many of which are too large to even care, but is ripe for the small operator to harness. Are you that person?

A Visit To The American Sign Museum In Cincinnati, OH
For years I have heard about the American Sign Museum in downtown Cincinnati, so recently I finally had a chance to go there. What an amazing museum for those who are interested in billboards, and signs in general. Founded by Tod Swormstedt, the former publisher of Signs of the Times magazine, the museum has been through a number of adaptations over the years, and is the only one of its type in the U.S.
The museum is organized into five sections:
Pre-Neon or Light Bulb Era (1900 – 1930)
Early Neon Era (1930 – 1939)
Post WWII Neon Era (1945 – 1960)
Large-Scale Neon Era (1950 – 1960)
Plastic Era (1950 – 1970)
The highlight of the museum are the giant number of neon signs crammed on top of each other, which produce an amazing show of light, as well as the street scenes that enable you to "walk through" an American town and see billboards in their original, historical format. I also enjoyed seeing the Big Boy sign – but was disappointed that they did not have any hamburgers for sale on site! Anyone who has an interest in billboards and the outdoor advertising industry – and happens to be in Cincinnati – should stop by and take a look. My wife remarked that it was the most memorable museum in the city, and there are quite a few great museums in Cincinnati.

A Demonstration Of The Power Of Wallscapes And Vinyl
I am on the sign committee in my small town in Missouri. We are trying to bolster tourism by placing a few billboards advertising "Visit the historic downtown square", and I have been helping to put the program together. In one case, we are placing a 12' x 50' vinyl on an abandoned gas station masonry wall, which will cost around $1,500 including the vinyl. In other cases, we are putting fresh ads on abandoned, wooden billboards at a total cost of under $1,000 each including the vinyls. You could never get a project like this off the ground at prices that low before the invention of vinyl printing. Vinyl has truly opened up a world of inexpensive options coupled with spectacular graphics, and many people do not realize what's possible today.

Billboard Home Study Course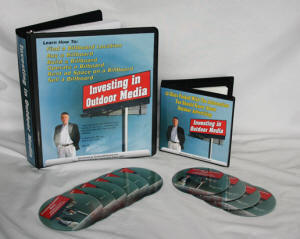 How to Find a Billboard Location



How to Buy a Billboard



How to Build a Billboard



How to Operate a Billboard



How to Rent Ad Space on a Billboard



How to Sell a Billboard

Get Your Copy Now!

The Market Report
Prices Are Delayed By At Least 15 Minutes