Memo From Frank
The first billboard ever made was by Jared Bell in 1835, to advertise the circus coming to town. Since that time, Ringling Brothers Circus has been one of the largest billboard advertisers in the U.S. and spends around $10 million per year in advertising to attract and sell around 10 million tickets per year. Effectively, billboards have been used to promote the circus for almost 180 continuous years, probably more than any other advertiser on earth. And it's a testament to the efficiency of billboard advertising that the circus only spends about $1 in marketing for every ticket that it sells – a virtually bargain compared to what is spent in other entertainment venues. It's this low cost that has made billboards a favored media during this U.S. recession that has stretched into its 7th year, and will continue to make billboards attractive for years to come.

What The University Of Michigan Sign Conflict Can Teach Us About The Risks Of Digital Billboards
The University of Michigan was in the paper recently due to a giant LED billboard it built on campus, in front of Michigan Stadium. The City of Ann Arbor is considering passing a resolution to force the sign to be disconnected or taken down. At issue is whether or not the sign is too distracting to drivers. The problem is that the sign cost $2.8 million to build, being 27' x 48' in size. That's a lot of money to lose. So what can we learn from the Michigan State LED disaster?
The LED industry misread the reaction to the technology
I will always consider one of the greatest failures of the sign industry was the way it rolled out the invention of LED. While LED could have been made into a "positive" to city government if it had been explained and integrated into the mainstream of city hall by using it partially for public service messages or promoting city tourism at no charge using vacant minutes of time. But billboard companies thought, for some unknown reason, that everybody already knew and loved the technology and there was no introduction needed. As a result, when the first LED signs turned on, calls streamed into city hall that the signs were garish and dangerous, and the city's reaction was hostility and the feeling that they had been thrown under the bus. It has proven hard to change first impressions.
LED is relatively new and untested
Although LED has been around for years on billboards, it is still very rare in most markets, and nothing more than a test case for most companies. Only a tiny fraction of the U.S. billboards – around 500,000 in total – have LED. Some peg that number at around 2,000, meaning that just ½ of 1% of all billboards are digital. As a result, there is still a lot we don't know about LED and how well it will be received by advertisers over the long haul, as well as how long the units last and what other issues may pop up.
Digital signs have many legal challenges that make them risky
There have been arguments since day one that LED does not meet the letter of the law regarding sign ordinances. The conflicts include the fact that motion is not allowed at the rate of speed found in LED, and that lighting cannot be from the sign outward, but only inward. In addition, the retrofit of LED onto traditional signs – often needing structural modification – may render the grandfathering provisions null and void. There is very little case law at this point, so there's not much to hang your hat on.
Digital signs are extremely expensive and there's really no fallback position
While you can build a 14' x 48' monopole billboard for around $50,000 to $100,000, adding two digital faces can take that price to almost $1 million. At that type of price point, there's little room for error. And there's really no adaptable use for that LED besides a billboard. Basically, you cannot afford to lose that LED sign or you lose the entire investment. In the case of the University of Michigan, they will literally lost the $2.8 million they spent, except for whatever they can get for the used LED units. AT those type of stakes, it's hard for anyone to take the gamble unless they have extremely deep pockets.
Until digital signs become less expensive and there's more case law, they will remain dangerous for the average operator
When you add it all together, LED – despite the advantages that it offers in many areas – is still very risky and un-tested. While Clear Channel and CBS can afford to lose a unit, the average sign own cannot. To put an LED on a structure, the average sign owner would be literally "betting the farm". One problem, and they would be wiped out. That's why the number of units in operation in the U.S. is so small – only a very few companies are willing to take the risk.
Conclusion
Will the University of Michigan lose their LED billboard? Nobody knows at this point, but thank heavens it's a giant institution and can afford, worst case, to take the hit. It will be interesting to see how this story turns out, and what facts are determined that might suggest the future of other, similar signs.

Why Sign Placement Is Critical
I drove by one of my old billboards in Dallas the other day. When I built the sign, it was on raw land. That was nearly 25 years ago. Since that time, the area has developed, and I was not sure if my sign was still there, or was a casualty to new construction – torn down to make way for a new building. But there it was, still standing in the spot where I'd put it all those years before. How could it have survived the development boom? Well, the answer is that I put it in the best spot possible, in the corner of the property next to a creek. At the time, it didn't seem to matter much where the sign went, as the land was a farm and development seemed a hundred years away. However, I was so trained to put the sign in the spot least attractive for future development that I put it in the property corner, and even built it as a full flag unit, so the pole was completely out of the way of whatever was to come. This formula still holds true today. Whenever you build a billboard, pick the one spot that is least likely to ever be of value going forward, and put the sign in that spot. It worked for me on Interstate 20 in Dallas, and it can work for you, too.

Billboard Home Study Course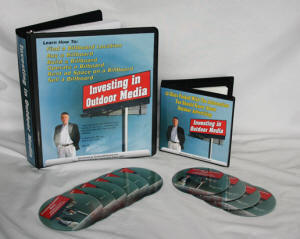 How to Find a Billboard Location



How to Buy a Billboard



How to Build a Billboard



How to Operate a Billboard



How to Rent Ad Space on a Billboard



How to Sell a Billboard

Get Your Copy Now!

The Market Report
Prices Are Delayed By At Least 15 Minutes