Memo From Frank
I hope you enjoy this first issue of our new monthly newsletter. We had a lot of fun putting it together, and we look forward to delivering a new one to you every month. If there is anything you'd like to see added, just email me at [email protected] and I'll do my best to get it in here.Outdoorbillboard.com was founded on the concept of information sharing – so share some with me. Give me your feedback, and I'll try to deliver what you ask for.

How To Decide What Type Of Billboard To Build
Okay, so you've found a legal location for a billboard. So how do you decide what size and type of billboard to build? It's not an easy question to answer. There is a correct methodology to selecting the type and size of billboard to build – and if you violate this system, you could end up in financial trouble, or miss a big opportunity.
There's a billboard for every situation
The industry has pioneered a wide range of outdoor advertising options to take advantage of every possible configuration of road size and traffic, as well as access and other issues. Sizes vary from 8-sheet (around 5' x 12') to 14' x 48' – although even larger sizes exist in wallscapes. Signs can be built out of metal single pole, or multiple poles made of steel or wood, or even directly attached to a building. There's no situation in which there is not a billboard design ready to meet those exact specifics.
Let's start with a budget
The beginning spot on any billboard is to model the projected financial performance of the sign to be built, and see what the budget is for its construction. You will need to "comp" – or get the rates – of the other billboards on the same road in the general proximity of your location. Next, you will need to subtract roughly 20% for groundrent, and then applicable estimated costs for vinyl installation, electricity, property taxes, and repair & maintenance. What you then have is a "net operating income" number that shows how much money the proposed sign can make a year. Since the general rule of thumb is that a billboard should make a 20% return on total cost (also called a "cap rate"), then all you have to do is take that net operating income figure and divide by .2, and that gives you a budget for the billboard's construction. For example, if the proposed sign would make $10,000 per year, then the budget is $10,000 divided by .2 = $50,000.
What the budget is telling you
Right off the bat, you will see that your billboard options are controlled by your budget. On rural roads and highways, you may find your total budget does not exceed $5,000 to $10,000. At these type of price points, your options are limited to old-fashioned wooden billboards, built with telephone poles. You would need a budget of at least $20,000 to even consider a steel monopole structure – and even then, a smaller one that might even need to be made of used parts. When your budget gets up into $50,000+, then you have just about every type of billboard structure as an option. It is important that you do not vary from this rule. The few cases of billboards that go bankrupt are founded on the idea that there is no correlation between the sign's cost and it's ability to make money. Just like a person, a sign has to live by a budget to succeed.
How to pick the advertising face size
There are really three components to making this decision. First, what are the other, competing signs sized at? To remain competitive, you will need to offer a billboard size in-line with the others on the same road. Second, how big does the sign need to be to be visible from the road? You will quickly notice that a four-lane double-divided highway required a much larger sign than a two lane road, due to the setbacks. Finally, what are the industry standard sizes that fit the bill? This can often be the most important consideration.
Standardization is key
The billboard industry has been around for almost 100 years, and there are many large, publicly-traded players such as CBS, Lamar and Clear Channel. They all share one quality – their entire sign operations are based on just a few, standardized sign sizes. The important point here is that if you want to sell out your sign operations down the road, it is imperative that you use these standardized sizes. Why? If your sign is not standardized, it will not be of interest to these larger players who pay significantly more than small mom & pop operations.
What happens on the ground is also key
Often, the selection of sign type – particularly when your budget is $50,000 and up – is related to what goes on under the sign in the form of regular business operation of your land owner. Often, a steel monopole is the only acceptable format when there is a busy retail center or industrial use going on underneath. And there are monopole designs that allow you place the pole in the extreme corner of the property, or beside a wall or behind a building. But remember, no matter what the property needs, you have to stick with your budget. I have walked away from many a sign deal when the property demanded a steel monopole, but the budget only allowed for a wooden telephone pole-type structure.
A few words about height
Many people build their billboards too high. Make sure that the sign is well above obstructions, but don't make it unusually high just to prove that you can. Lower billboards stay in the visibility of traffic longer, and appear visually larger. Choose a height that is a reasonable balance between natural visual barriers, such as trees, and a good height to see out your windshield.
Conclusion
There are many factors that lead to the decision on what type and size of billboard to build. Don't just build any old size and configuration. Look at it analytically, and make the right decision based on all the factors at hand. The up-front selection of the billboard you are building will yield success or failure down the road. Choose success.

Billboard Home Study Course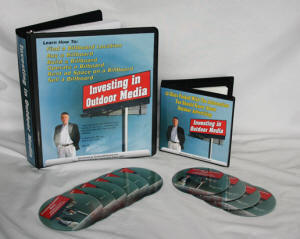 How to Find a Billboard Location



How to Buy a Billboard



How to Build a Billboard



How to Operate a Billboard



How to Rent Ad Space on a Billboard



How to Sell a Billboard

Get Your Copy Now!

A Billboard Tale
Did you know that the early pipe used for steel monopole signs came from Alaskan Pipeline rejects? As they were building this mammoth undertaiking, they would discard at the factory any steel pipe that leaked when tested. That's why the early monopoles used to "hiss" when you poured the concrete around them – as the air pressure came through the holes. That's also the reason that, almost overnight, sign structure fabrication changed from I-beams to rolled steel columns, as there was so much of this column material being made for the Alaskan Pipeline.

The Market Report
Clear Channel - 9.90

CBS - 22.83

Lamar - 19.02

Signs For Sale Spotlight
MN12 - Mike Williams - 218-821-6922 - 30 Face Billboard Market For Sale
DE4 - William Benham - 352-789-4203 - Billboards on Route to Ocean City
NY16 - Katherine Krug - 702-673-0471 - 34' x 27' ProStar 20mm LED Display System

Billboard Boot Camp
February 11th & 12th, 2012 - St. Louis, Missouri

Curriculum includes:


How to find billboard locations in small, medium and large towns and cities.


10 "outside the box" ways to find billboard locations almost everywhere.


The right way to approach a landowner.


How to determine the correct size and location for the sign.


10 ways to always find an advertiser – even in the recession.


How to properly service your customers.


How to get financing.


The steps to flip leases and permits for immediate cash flow.


How to build an operation that you can sell down the road.