How To Thank Your Advertisers At Christmas Time – And Improve Your Renewal Rate
Christmas is coming up, and the holiday lights are already up and burning at the local Walmart store. The holidays are a great time to re-connect with old friends. It's also a great time to let your advertisers know how much you appreciate them and want to keep their business in the new year. With a sagging national economy, it's never been more important to retain your clients. And here are some Christmas ideas that I've used to make sure that I'm on every advertisers "nice", rather than "naughty", list.
A great Christmas card is essential
I always send a Christmas card to every client we've got, including suppliers and landowners. But I don't just go to the store and buy some boxes of the same old cards and send them out. Instead, I create a custom billboard-oriented card that I have printed at the local printing shop (Office Depot and OfficeMax can also do this at a very low rate). The front of the card should be a billboard-oriented cartoon or photograph. For example, one year I had a simple line drawing of a monopole billboard with workers up on the sign installing a new vinyl (that you could not make out the message). When you opened the card, the vinyl was installed and it said "Merry Christmas" and there was Santa and his reindeer flying off in the distance. A simple message, but much more memorable than some store-bought card. I would also personally write a message on the card such as "we really appreciate your business" or "looking forward to selling more cars for you" or whatever you think is appropriate for each person. The combination of a custom card and a personal message really makes it stand out from the crowd.
Don't forget about presents
If you look at all the advertisers and other businesses that support you, there will be some that come to the top of the list. For example, your banker. And the advertiser that has multiple billboards with you. And how about that ad agency that pays you more for that one sign that any other sign in your portfolio? These stand-outs need more than a card. If you do not buy them a decent present, you may be proving to be penny wise and pound foolish. I always give my banker, for example, a nice gift basket from a fancy epicure shop, with an expensive bottle of wine and gourmet cheeses. It costs around $100. Before you say "that's too lavish", imagine what would happen to you if the bank called your loan or refused to extend you further credit. On a big advertiser, I might get the same, but a smaller version at maybe $50. Again, it's a lot of potential bang for the buck. One great thing about food gifts is that everyone at their office can share them, so there's no jealousy.
Time to call in your arter dollars
If you have engaged in a barter sign or two during the year (barter exchanges often trade billboard advertising for barter dollars that can be used to trade for items), then it's time to cash those in on gifts for advertisers and landowners. The best gifts we've found at barter exchanges are hotel room and food certificates. If you give your top advertiser two nights at a four-star hotel or free dining at a fancy restaurant – or both – you are really going to be on their A-list.
Don't underestimate the value of gifts
If you are saying to yourself "that's overkill – I don't want to spend the money", then you are fighting common human logic. People who receive gifts always subliminally favor those who give gifts over those who do not. I guarantee you that sometime during the year, your advertiser is going to get offered a better sign than yours at a lower price. And you better believe that his very decision on who to go with may involve their guilt in dumping you since you bought them a Christmas gift. You do the same thing yourself. That $50 gift to your top advertisers may save you thousands of dollars in vacancy.
Summary
You've heard the old saying "it's better to give than to receive". Well, here's a win/win. You give a gift – or even just a card – and you receive preferential treatment from the customers and suppliers most important to you. That's one heck of a Christmas present.

Billboard Home Study Course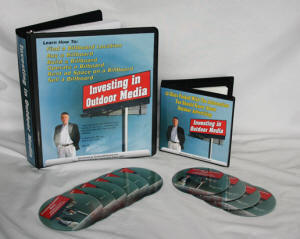 How to Find a Billboard Location



How to Buy a Billboard



How to Build a Billboard



How to Operate a Billboard



How to Rent Ad Space on a Billboard



How to Sell a Billboard

Get Your Copy Now!

A Billboard Tale
Back before the advent of vinyl, everyone had to use sign painters. Every medium-sized and larger billboard owner had to have their own painter, or they would never get their ads up because so many days you couldn't paint due to weather. And those sign painters were notorious for practical jokes. I had an ad for Barrett's Shoes that went up for Christmas, and the painters deliberately left off the "S" so that the ad said "Barrett's Hoes". Barrett called me and said he'd cancel the contract if we did not get the "S" up by the next day. But it was Christmas Eve, and the paint shop was closed, so I had to go up on the sign and paint the "S" myself. That's why everyone was so happy when vinyl technology came out.

The Market Report
Prices Are Delayed By At Least 15 Minutes