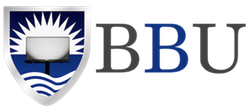 ---
What if you could have a business that would bring you consistent income each month to fund the retirement, vacation home, or lifestyle of your choosing… without a lot of heavy lifting and hard work?
BIG SIGNS = BIG BUCKS… and you can get
in on a piece of the action when you invest the right way in billboards.
Imagine. You're driving down the highway in your hometown and you see an empty spot on someone's land. If you see it, so does every other driver that's passing by, day or night.
If you were an advertiser, you'd want to get your hands on that unused space.
But do you know the steps to take to work with the owner of that land, build a billboard, and sell advertising space?
Do you know the rules and regulations you have to follow to make that deal happen legally and profitably?
Now you can.
In my book, Big Bucks from Big Signs, I'm revealing my exact process for finding, procuring, and selling advertising on big signs of all types - next to highways, on farmland, and even near resort and vacation destinations
My name is Frank Rolfe and I fell into the billboard business in 1982 after graduating from college. I started a business to help me with my MBA school applications… and I was so successful, I never actually went back to school.
In fact, I sold my billboard business for $5.8 MILLION… which is not too bad when you considered that I started by fixing up an old sign and selling space on it to a couple local businesses (including one seedy motel.)
My first big sign made me $19k per year in pure profit… and I did it without having someone to show me the way like you do right now.
Big Bucks from Big Signs is a 149-page book that will walk you through the most important parts of starting in the billboard business.
I'll show you:
How to find the valuable opportunities and pass up the ones that won't make you a cent…
How to meet the owner of a potential location and hand them a deal that they won't be able to pass up…
The different types of billboards you can build and why they may or may not be a good choice for you (this information took me years and more than a few missteps to learn)…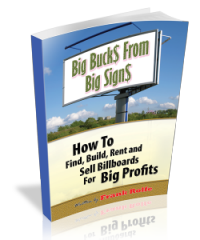 My simple trick to selling your lease to your competitors that will make BOTH of you feel like you've won…
How to serve your customer so they feel like a million bucks (and keep paying you every month until you sell or beg them to stop.)…
And much, much more!
PLUS I'm pulling back the curtain on my 50 BEST deals and sharing stories, lessons learned, and inspiration so you can really see what the billboard business is all about.
(everyone likes to read a "horror story" or two… but you'll have to read all 50 to see if I put any of those in there.)
Now, this information that I'm sharing with you took me a lot of years and a substantial amount of money to learn. (After all, I didn't have anyone showing me the ropes like you do!). So I could easily charge a few hundred bucks and sleep soundly at night.
But because I want to help you get started right away, I want to make you a special deal.
Right now, you can snag this entire 149-page book for just $79.
But you have to act fast - I'm not going to keep this offer up forever and you might just miss out.
Special Offer - Just $79

* Get instant access - even at 2 am - Guaranteed
Remember, this book is me pulling back the curtain on my exact steps to
build a business that I eventually sold for $5.8 MILLION.
But as an added bonus, I'll also give you my hour-long audio training, "10 Steps to Rent any Sign." This training will show you my exact 10-step system for making a profit off of any sign, anywhere.
This audio training has been pulled out of my exclusive vault and will give you the in-depth knowledge you need to know you can make a profitable deal no matter what.
If you're looking to fund a retirement, vacations, or just a nice lifestyle
without a lot of hands-on work… Billboards are the right choice for you.
(Don't just take my word for it…)
"I started looking for billboards about a year ago, before I ever heard of your book. Your books showed me that I was going in the wrong direction. Now I am following what your book said, and i just signed my first lease"
"I just signed my first billboard lease, thanks to your book. I followed your directions and now I have my first billboard. It worded just like you said in your book."
"Your books are the best ones I've ever read. Nothing but information and real-life tips. I am very satisfied."
"You made something that seemed scary and complicated east to understand."
"I bought Frank Rolfe's 'Big Bucks from Big Signs' through your site. The book is excellent and has helped me tremendously in my efforts to build my outdoor company. It was the best $80 I've spent in a long time."
"I wish you had more books, because I'd buy them all. They're a bargain."
Are you ready to build something that will pay off for years to come?
Just click the big orange button below, fill out your information and we will mail your book right away!
Dedicated to Your Success,
Frank Rolfe
P.S. Remember, you're not only getting the Big Bucks from Big Signs book, you're also getting my BONUS audio that will show you the 10 steps to renting ANY sign. This means that I'm not only showing you how to find the right location, build the right sign, and create a lease that's profitable for you… I'm going to show you my exact 10-step method for renting any sign to local businesses in your area at BIG profits!
Special Offer - Just $79

* Get instant access - even at 2 am - Guaranteed
P.P.S. Because I want to take all the risk off you, I am going to offer a 90 day, no questions asked, 100% money-back guarantee. If at any time during the 90 days you feel the book wasn't insanely valuable, simply mail it back to us and we will refund 100% of the purchase price.