Why Get Into The Outdoor Billboard Business?
Outdoor Billboard Investment Home Study Course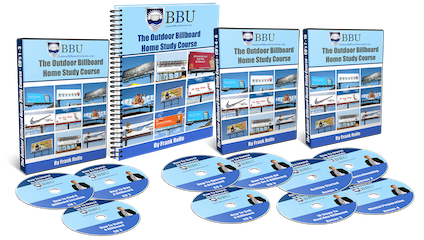 Outdoor Billboard Course Features
The Outdoor Billboard Professional Home Study Course Manual, over 375 pages in length.
How to Find a Billboard Location CD
How to Buy a Billboard CD
How to Build a Billboard CD
How to Operate a Billboard CD
How to Rent Ad Space on a Billboard CD
How to Sell a Billboard CD
Getting Started
Initial Housekeeping
10 Steps to Rent any Sign
Mental Preparation
AND
Receive our standard billboard ground lease form for you to review and edit to meet your state laws (that alone would cost you $4,000 to create, and would still not be as good).
AND
Because we always want to OVER-DELIVER, you will also receive access to our monthly Mentoring Hour. This is where Frank Rolfe will be on the phone answering questions or talking about new things happening in the industry. Again, this is FREE with the Home Study Course. You can ask any question, or talk about deals.
Frank Rolfe's Story
How I Turned Nothing But A Desire To Get Ahead Into The Largest Privately-Owned Billboard Company In Dallas - And How You Can, Too.
If you have absolutely nothing but a deep desire to be successful, then you can start a billboard company and make your dreams a reality that's what I did. I started my billboard company straight out of college with absolutely no idea what I was doing. For nine months I floundered and didn't find one billboard location, but then I started to learn the ropes and by the end of the first year I had three. From that point on I got better and better at it. Fourteen years later, I had averaged building two billboard faces per month for that entire period - the most anyone had ever built in Dallas.

I financed my company through credit card debt, bank debt, and flipping billboard leases. But you don't have to take on debt to be successful - you can just flip billboard leases and never take on a penny of debt or risk any of your own money.

But today you can probably do a lot better than I did, because you won't have to flounder in your early years like I did. That's because I've written this course to teach you everything I learned about how to succeed at the billboard business.

When you invest in this course, you will also receive once-a-month access to our Mentoring Hour, live with me on the phone, to give you continual support on the concepts put forward in these materials.

The Outdoor Billboard Professional Home Study Course

If you want to get into the billboard business, then this course is absolutely essential. It covers all aspects of the business, from selecting your market and laying the groundwork to begin, to identifying legal locations, deciding what size and configuration to build, negotiating with land owners, obtaining permits, building the sign, renting the advertising space, managing the sign, and preparing for an exit strategy. It not only shows you step-by-step what to do, it also shows you the shortcuts and insider secrets that the professionals use.

So why would you want to get in to the billboard business? Probably because it is one of the most lucrative start-up concepts in the U.S., and one of the best kept secrets. You have two avenues to success here. You can simply find locations, sign them up, and sell them to existing billboard companies (flipping locations), which can make you tens of thousands of dollars in your spare time. Or you can find them, construct them, and build a portfolio of signs as an investment. You can build that portfolio, over time, into something sizable and extremely valuable. The billboard business has built one billionaire, John Kluge, at least two near-billionaires, Ted Turner and Artie Moreno, and many, many millionaires. It is one of the least known, yet most profitable, niche investment opportunities. The industry has three public companies: Lamar, CBS, and Clear Channel. And all of these people and companies began just as you are, obtaining one billboard location at a time.

This course is written by Frank Rolfe, who built from scratch the largest privately-owned billboard company is Dallas/Ft. Worth. And he did that despite battling over 60 competitors, and surviving the 1980s recession. In fact, he was able to double his company?s size during that recession, which was similar in its severity to the one the nation is currently in. One of his most amazing feats was keeping a 90%+ occupancy rate during the worst of that depression, using his unique method of renting advertising space that he reveals in this course. He also shows his time-proven, unique methods for finding new sign locations and how to build signs inexpensively, by matching the economics of the market to that of the sign.

If you really want to be in the outdoor billboard business, then this course will show you exactly how to do it, and set you on the right path to success. And it contains no fluff or filler. It's just 100% professional information and strategies - all of which are backed by the author's real-life experiences. It delivers to you everything you need to start building financial security and independence with outdoor billboards.
Detailed Home Study Course Description
How to Find a Billboard Location
Picking a Market
Assembling your Tools
Marking up Maps and Ordinances
Finding Spacings
Contacting Owners
Meeting with Landowners
Signing up Leases
Thinking Outside the Box
How to Buy a Billboard
How to Find a Billboard to Buy
How to Approach an Owner
How to Let the Owner Calculate the Price in your Favor
How to Construct a Contract to Buy
How to Perform Due Diligence
How to Detect Dirty Tricks

How to Build a Billboard
How to Pick a Size
How to Pick the Height
How to Decide on a Structure Type
How to Choose the Site to Drill
How to Get Electricity
Big Problems to Watch Out For

How to Operate a Billboard
How to Make a Budget that is Realistic
Collections -- the Most Important Thing to Watch
How to Develop Easy to Use Systems For Everything
All about Lights and Timers
How to Measure Your Success -- Renewals
How to Avoid Big Disasters
How to Rent Ad Space on a Billboard
How to Price the Billboard
How to Market the Space
Meeting with Advertisers
How to Close the Deal
Client Follow-Up and Satisfaction
How to Rent Anything
How to Sell a Billboard
How to Price it
How to Market it
How to Groom it For Sale
How to Meet with Buyers
How to Negotiate
How to be Easy to Buy From - with Repeat Potential
Customer testimonials
"I started looking for billboards about a year ago, before I ever heard of your book. Your books showed me that I was going in the wrong direction. Now I am following what your book said, and I just signed my first lease."
Alice C. , Texas
"I wish you had more books, because I'd buy them all. They're a bargain."
Larry T. , Oregon
"Thanks for responding! I really like your website that you have and I really enjoyed the books I purchased a few hours ago. They have really helped me out!"
Regards,Braden
"I just signed my first billboard lease, thanks to your book. I followed your directions and now I have my first billboard. It worded just like you said in your book."
Stan W. , Texas