Big Bucks From Big Signs
How to Find, Build, Rent and Sell Billboards For Big Profits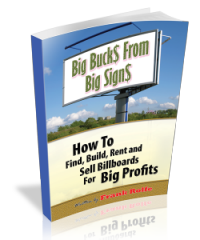 This book is for those looking to buy, build, or otherwise get into the Billboard and Outdoor Advertising Industry.
Here is a sample of what you will find inside:
Understanding What Creates Value
Getting Started: Checking Laws and Doing Research
Finding Locations and Getting Permits
Additional Ways to Find Locations
Getting the Land Owner to Sign the Lease
Buying Existing Billboards
Considerations When Buying a Billboard
The Real Economics of Billboard Ownership
Getting a Loan For a Billboard
Deciding What Kind of Billboard to Build
OSHA and Other Complications
Selling Your Billboard or Billboard Lease to a Competitor
Selling Advertising Space
Subleasing a Billboard to a Big Rival
Service the Customer
Rotary Billboard Programs
Looking to the Future
Definitions and Terminology
Listing of the State Departments of Transportation
Part 2: MAKING MONEY IN BILLBOARDS:
A CASE STUDY MY BEST 50 DEALS AND WHAT MADE THEM GREAT.
Here is a sample of what you will find inside:
An Amazing Deal That Anybody Could Have Had
You Can Make More Than Wooden Nickels Out Of Telephone Poles
Thinking Outside The Box Makes Money Again
The Stupidest Deal Ever – For The Seller
Another Big Company Mistake
The Big Company Can't Stop Blowing It
I'll Take $70,000 With That Order Of Fries Please
Can I Have That Same Order Again
How I Turned The Tables On A Liar And Made An Even Better Deal
A Sudden Turn Of Fortune Only Gets Better
Another Big Company Gone Stupid
Now A Small Company Gets Stupid Too
The Crazy Story Of Billco
One Of My Most Important Deals That Almost Bankrupted Me Twice
Earnings Per Hour That Rival A Sports Star
A Classic Textbook Sign Deal
Thinking Outside The Box Scores A Home Run
How I Built A $10,000 14' X 48'
A City Council Gives Me A Location
Another Big Company Screw Up
I Build The Biggest Sign In Dallas – Barely
A Calculated Risk Goes Bad, Then Good Again
The Most Impossible Billboard Deal Ever Achieved By Man
There's More To Life Than Money – Especially If You're Rich
This Deal Is Too Weird To Believe
Sometimes Nice Guys Do Finish First
Another City Council Victory
Flipping Leases Beats Flipping Burgers
Now This Was A Strange Deal
The Best Investment Of An Evening You Could Make
Another Big Company Lack Of Vision
A Simple, Profitable Billboard Transaction
A Sleepy Market With Solid Numbers
A Sign That Lived Many Lives And All Profitability
An Abandoned Billboard Gets A New Life
Pioneering A Blighted Market With High Traffic Volume
Honesty Is The Best Policy -- If It Gets Your Lease Signed
I Brave The Projects And Bring Home A Billboard Lease - Barely
A Different Way To Get A Location -- Riskier But More Profitable
I Buy Land Again
I Fight City Hall And Win
I Fight City Hall Again -- Accidentally -- And Win Again
Cold Calling Bank Repo Departments Finally Pays Off
A Little Niche
I Sublease One Side Of A Fuel Stop Sign
I Buy Another Dog Sign From A Big Company, And Then Maximize Its Yeild
I Find An Amazing Oversight By A Competitor
I Wine And Dine My Way Into A 14' X 48' Freeway Location
I Take A City Ordinance And Work Backwards
BONUS CHAPTER: HOW TO MITIGATE RISK IN THE BILLBOARD INDUSTRY
BONUS BAD DEALS: THE TOP FIVE DEALS I DIDN'T DO AND WHY I'M STILL GLAD I DIDN'T
---
About the Author:
Frank Rolfe started his billboard empire from his coffee table, as a fresh graduate from Stanford University. It began as a resume builder for graduate school applications, and ended with a sale to a public company 14 years later.

Using unique strategies he developed from desperate competition with much larger adversaries, Rolfe eventually owned more billboard units than any private individual in Dallas/Ft. Worth. Along the way, he fine-tuned the techniques to find billboard locations, rent advertising space, and sell signs and leases.

Rolfe was an aggressive buyer of billboards during the Texas recession of 1988-1992, and built or bought during his career the astounding average of two billboard faces per month – one every two weeks for fourteen years straight. He was also able to individually rent one billboard face every two days.


---
Building or buying existing billboards can be a profitable and fun part time or full time business and with the tools and strategies you will learn from this book you will be ready to take the next step and make Big Bucks from Big Signs!

If you are ready to educate yourself and excel in the Outdoor Advertising Industry then it is time to take the next step.
Ø

A billboard on a major highway in a decent market can sell for $100,000 to $300,000+. The profit on that one sign, after construction cost, can buy you a house.

Ø

An old wooden sign that I bought in 1982 for $4,000 generated $21,000 a year of income to me for 14 straight years until I sold it, for an additional profit of $60,000. That's $354,000 profit on a $4,000 investment. Again, can buy you a house.

Ø

A decent lease on a lesser road can bring you $15,000 cash profit. Four leases like that can buy you a house, or at least the down payment.
---
Customer testimonials
And here's what people have to say about this course:
Hello,
I bought Frank Rolfe's eBook 'Big Bucks from Big Signs' through your site. The book is excellent and has helped me tremendously in my efforts to build my outdoor company. It was the best $70 I've spent in a long time.
Adrian D.
I wish you had more books, because I'd buy them all. They're a bargain.
Larry T. , Oregon
Thanks for responding! I really like your website that you have and I really enjoyed the books I purchased a few hours ago. They have really helped me out!
Regards, Braden
Your books are the best ones I've ever read. Nothing but information and real-life tips. I am very satisfied.
Doug P. , Oklahoma
"I just signed my first billboard lease, thanks to your book. I followed your directions and now I have my first billboard. It worded just like you said in your book."
Stan W. , Texas
You made something that seemed scary and complicated east to understad.
Thank You, Elaine T. , Florida
I started looking for billboards about a year ago, before I ever heard of your book. Your books showed me that I was going in the wrong direction. Now I am following what your book said, and I just signed my first lease.
Alice C. , Texas
This book comes with a 90 day 100% money back guarantee. No questions asked!!!
P.S. This book has started many a billboard career. If you have a real interest in this business, this the best place to start.